Kirura - Kenya
Regular price
Sale price
€17.00 EUR
Unit price
per
Sale
Sold out
EARL GREY, ORANGE


WHERE AND WHO
Kirura is a part of the larger Komothai group of coffee processing stations, which includes Riakahara, Barikongo, Kagwanja, Korokoro, Githongo, Gathiruini, Thiururi, Kaibu, New Thuita, Kanake, Gatuyu, and Kamuchenge sites. Komothai was established in 1959 and currently has 9,951 members, of which 1,047 registered members deliver their coffee to Kirura.
Kirura is situated in Kiambu County, nestled on the slopes of the Aberdare Ranges just outside Nairobi, the capital city of Kenya. It stands out as one of the few remaining old coffee processing stations in Kiambu, as many have relinquished their land to real estate developers. 
FROM THE CHERRY TO THE BEAN
Kiambu, thanks to its location on the slopes of the Aberdare Ranges, boasts rich red volcanic soils, especially in the vicinity of Komothai. Kiambu receives significant rainfall even during its driest months. The combination of high altitudes, moderate temperatures, and ample rainfall provides the ideal conditions for coffee cultivation.
Kiambu is often referred to as the food basket of Nairobi, hosting large coffee and tea farms as well as dairy operations. Komothai manages an estimated 2,113 hectares of coffee acreage. Kirura's proximity to the Kenya Coffee Research Institute in Ruiru allows farmers to access certified seedlings, which may explain the consistently high productivity over the years. The main coffee varieties cultivated in this region are Sl 28, Sl 34, Ruiru 11, and Batian.
Farmers at Kirura selectively handpick ripe coffee cherries and deliver them to the station. At the station, a cherry clerk supervises the sorting process, accepting only red, ripe cherries. The cherries are then pulped and fermented for approximately 16-24 hours, without undergoing soaking. Afterward, the coffee is washed with clean water and laid out to dry on raised beds. Frequent parchment raking ensures even drying. At night, it is covered to protect it from moisture. The parchment typically takes around 14-20 days to dry thoroughly.
ABOUT THE VARIETY
SL28, SL34

SL28 was developed by Scott Laboratories by Tanganyika D.R. in 1931. It has gained widespread popularity in Kenya and is renowned for its exceptional cup quality. SL28 exhibits broad leaves with coppery tips, and its beans are characterized by their width. However, SL28's productivity is relatively low. Although there is no conclusive evidence, some sources suggest that Scott Labs created SL28 by cross breeding mutations of French Mission, Mocha, and Yemen Typica. Regardless of its exact genetic makeup, their primary aim was likely to cultivate a plant that combined high quality, reasonable yield, and robust drought resistance.
SL34, on the other hand, is a mutation of the French Mission variety, originating from the Loresho plantation in Kabete. SL34 features wide leaves with bronzy tips and is widely cultivated across Kenya. This variety is esteemed for its ability to deliver high yields across various climate conditions and elevations. It is also believed to have resilience against both drought and heavy rainfall.
Share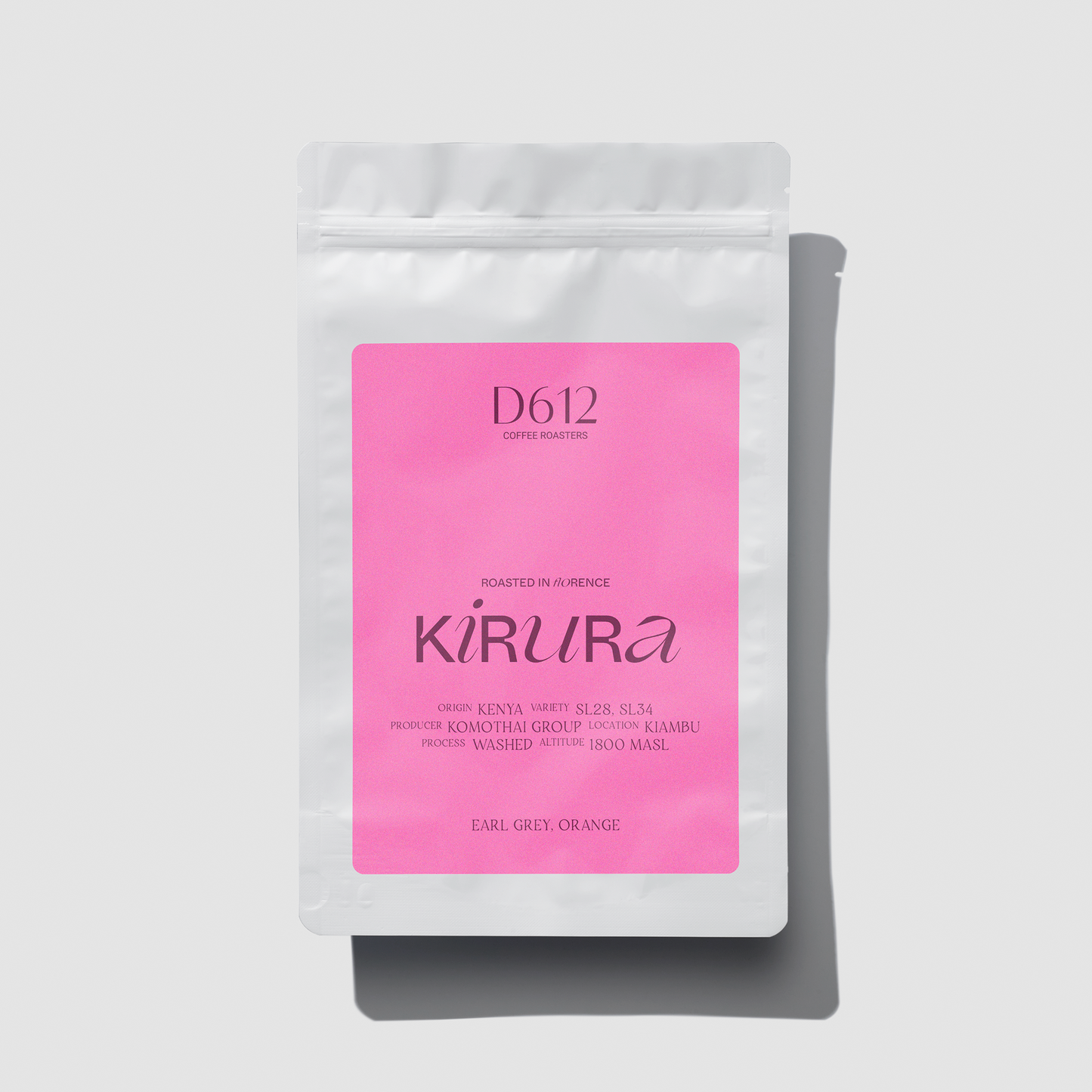 Free Shipping

All orders above 50€ shipped in italy (100,00€ for the Europe) would be free of shipping charges.

Shipping Info

We ship the orders in cardboard mailing boxes of 30 × 20 × 15 cm, 0.188 kg so it is best if someone is in to receive the order. For any further information please contact us at lucian@d612.eu writing shipping as object of the email.