Give&Take #8 - Brazil
Regular price
Sale price
€11.00 EUR
Unit price
per
Sale
Sold out
DARK CHOCOLATE, ALMOND

WHERE AND WHO

Mr. Aneite Reis inherited 5 hectares of farmland to start production at Rancho Grande Farm in 1933. Currently, the farm is managed by José Carlos Reis, Aneite's son, and his son Flávio Reis. 
The farm is located at an altitude of 970 masl and also has a significant number of dairy and beef cattle. The primary mission of the company is the responsible production of the highest quality coffee, with a parallel commitment to environmental protection and the well-being of its employees. 
Within the farm, many farming families live in houses with access to electricity and subsidized food assistance. They are open to adopting new ideas and techniques and have invested in the construction of various static drying chambers to improve the drying process. They have made significant efforts to improve the quality of their coffee for the specialty market, focusing on every aspect of production, from cultivation to harvesting and post-harvest treatment.
FROM THE CHERRY TO THE BEAN

After the mechanical harvesting of coffee cherries, they are separated based on ripeness and density. Ripe cherries are then selected to be placed in the static drying chambers, which are one-meter deep basins with a capacity of about 15,000 liters of cherries, equivalent to 25-30 bags of green coffee. 
Inside these basins, there is a ventilated grid that allows air to circulate from the bottom to the top, through the coffee. For the first 12 hours, cold air is used to slow down the fermentation process, and then the temperature is gradually increased to allow for drying that lasts from 7 to 10 days.
There are two thermometers at different depths to ensure that the temperature remains constantly below 40 degrees Celsius. These chambers are called "static" because the coffee is not rotated or turned during the drying process. After drying, the coffee is allowed to rest for about one or two weeks before pulping. This method has led to the production of more fruity and distinctive flavor profiles compared to the typical profile associated with Brazilian natural coffee.

ABOUT THE VARIETY
ACAIA
Acaiá (also known as Acaia Cerrado) is a rare variety primarily found in Brazil. Its name, reportedly, means "large fruit" in the Tupi-Guarani language. Acaiá is a natural mutation of Mundo Novo, itself a natural hybrid of Typica and Bourbon. This variety has adapted well to the Brazilian climate and growing conditions, particularly excelling at altitudes of 800 meters above sea level or higher. Acaiá trees have a characteristic triangular shape that allows them to evenly capture sunlight.
Share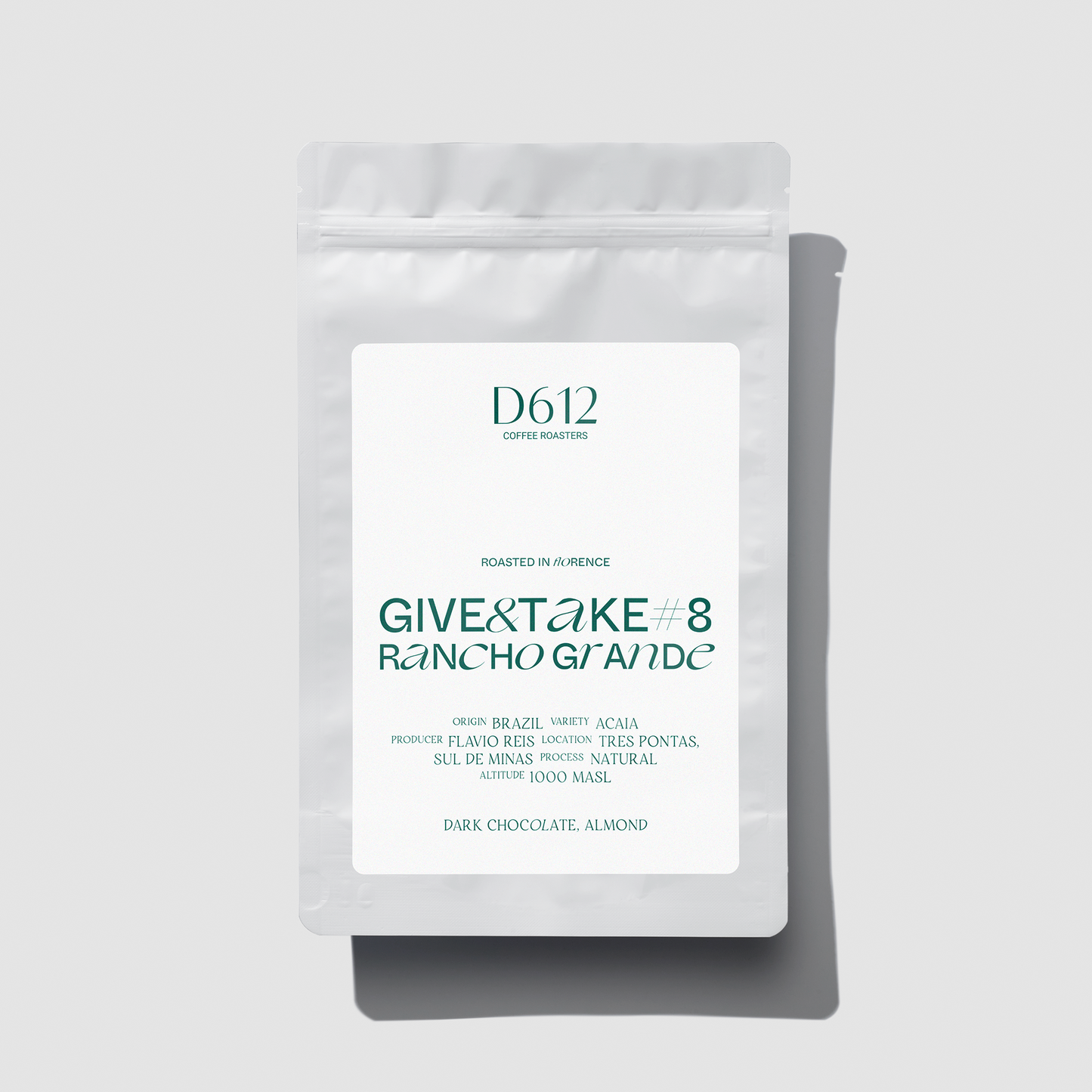 Free Shipping

All orders above 50€ shipped in italy (100,00€ for the Europe) would be free of shipping charges.

Shipping Info

We ship the orders in cardboard mailing boxes of 30 × 20 × 15 cm, 0.188 kg so it is best if someone is in to receive the order. For any further information please contact us at lucian@d612.eu writing shipping as object of the email.